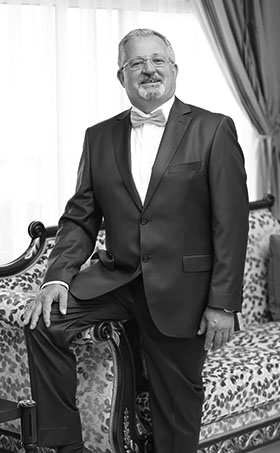 DIRECTOR & FOUNDER

Message
Joseph Sassine Finianos is the director and founder of Cercle D'art. Mr. Sassine Finianos was educated in Lebanon and graduated from the school of decorative arts academy with a Master's Degree in Interior Architecture. In the late 1980's his ambitions brought him to the United Arab Emirates, Dubai where he worked and started gaining years of experience as an interior designer.
In the 1990s he saw an opportunity of establishing Cercle D'art LLC and started a journey with an ambition to fulfil the market with the greatest work management and quality. With our strong foundation and passion we aim to be a long-lasting partner to our clients achieving and fulfilling their necessities and visions.
Cercle D'art raised the bar through offering the best quality of services and adopting the highest standards; employing a well educated, and experienced team that fosters in an extravagant creative environment.
Mr. Joseph Finianos

PROJECT MANAGER

Message
Over 10 years of extensive experience in designing, contract administration and project management in UAE. Our goals and ambitions are driven by targeting the highest quality in the services we offer and helping our clients to raise their expectations, creativity, and innovation by bringing their visions to life with our experienced creative designers and advanced modeling tools.
We aim to provide the appropriate requirements to our respectable clients upon their request and deliver the best work they could treasure and remember.
Choosing Cercle D'art LLC in all means is choosing a partner that is driven by trusted and solid foundations, a caring attitude of our competent, and simply, a work well done.
Mr. Jean Pierre Finianos